City Safari
Discover how wild animals live in Berlin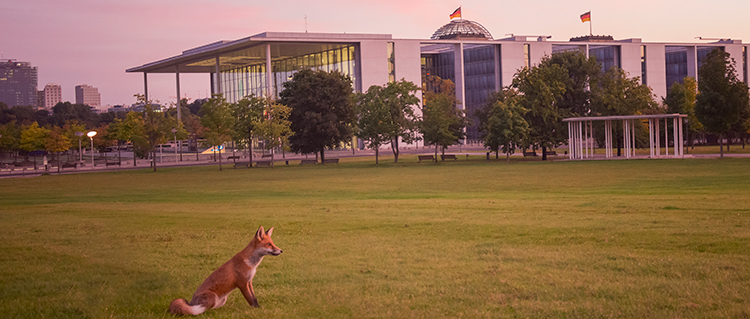 Berlin has 1,500 urban foxes, 1,300 nightingale territories and 600 natural monuments, mostly in the form of beautiful, old trees that managed to survive both World Wars despite their inner-city location and have many exciting tales to tell. Berlin is known as the capital of bats; it also has the highest density of goshawk territories in Europe, and entire beaver families have been spotted within walking distance of the city's government district. Who would've thought it?
City Safari – Wild Animals in Berlin
Some well-known examples include the fox from the Chancellery, raccoons at Alexanderplatz as well as a beaver family living within a stone´s throw from the Reichstag. Berlin's 1,500 urban foxes, 2,600 nightingales and thousands of wild rabbits hint at the abundance of fauna in the so-called 'Capital of Wild Animals.'
Squirrels, turtles and owls also inhabit Berlin's unique mosaic of historic parks, wild romantic corners and hip community gardens. Due to the fall of the Berlin Wall they've even established new living environments in Berlin parks and gardens that have sprung up in the former death strip.
On this tour around the expansive Tiergarten you'll get to hear the most exciting stories and strangest anecdotes about wildlife in Berlin. Trails will provide clues as to their preferences and habits, and if we're in luck we may actually see one of the wild animals that normally live in secret among us.
meeting-point: Stop of bus line 100: "Platz der Republik", 10557 Berlin
time: two hours
costs: 120 € including VAT
The tour can be booked individually. We`re looking forward to your request.